Copied from: http://freepages.genealogy.rootsweb.com/~hookersbend/bio_colonel_samuel_watson.htm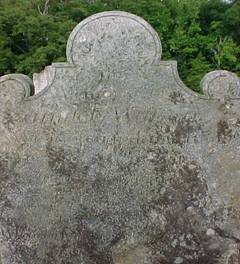 It is believed that Samuel Watson was the eldest son of William and Sarah ?? Watson, of Hanover Township. Lancaster County Pennsylvania. William's will reflects a total of five sons and seven daughters. Samuel received ten shillings in his fathers will, which would probably indicate that he had already received his inheritance and was included in the will only as a gesture of sorts. The inheritance may have been in the form of land in South Carolina received in a grant from Ireland prior to the Watson's coming to America.
Samuel's future wife, Elizabeth, was the daughter of James and Mary ?? McDowell of Derry Township, Lancaster County, Pennsylvania. James McDowell's will was executed in 1747 and in August 1751, in an Orphan's Court held in Lancaster County, Mary, widow and executrix of James McDowell, petitioned and received guardianship over the couple's children and their inheritance. She stated she was about to remove with her children to the Colony of Carolina.
Samuel married Elizabeth around 1758 after he left Pennsylvania. In the book, McDowell's and Connections, Hugh McDowell states 'tradition says Samuel Watson came to Carolina with the McDowell's." A letter written in 1881 by Rev. Samuel Watson, a grandson of Samuel, stated "he came from Ireland with many by way of Pennsylvania & by degrees and at different times migrated south through the valley of Virginia, North Carolina, and South Carolina to the western border of the state called 96. His relatives by marriage remained on the east of the Catawba River. He finally settled and built seven miles east of York City Hall on Allison Creek—– he built a large brick residence, finished complete from cellar to garrett and out buildings for stock in true Pennsylvania style."
Figure 1-Spring at Bethel Presbyterian Church.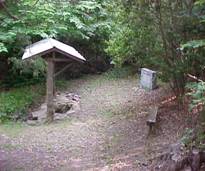 Samuel settled into his new life and gained the respect of friends and neighbors. He was active in both church and state affairs. With a Mr. Floyd and Mr. Baird, he was appointed to a committee to select a site for Bethel Church. The three men lived in various sections of the county. They agreed to meet at a certain spring after having left their respective houses at the same time. The point the three men came together was well wooded, drained and watered, and the site was selected for the Church. The Church was erected in 1764. The first pastor of the Church was Reverend Hezekiah Balch who was a member of the Orange Presbytery. Elders of the newly established Church included Samuel, John Howe, Samuel Craig, and Adam Baird.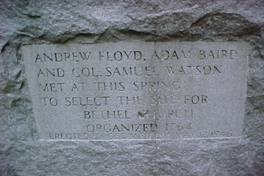 As the uprising against the British grew stronger, the colonists were prepared to fight for freedom. Samuel was appointed captain by the Provincial Congress in 1775. He and other regimental officers attended the Second Provincial Congress in Charleston. When the New Acquisition (York County) Regiment of horseman was formed in 1778, Samuel was appointed First Lieutenant Colonel under Colonel Thomas Neel.
Figure 2- Misskelley at the spring.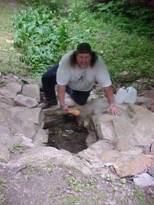 In January 1779, a regiment of militia under the direction of Colonel Thomas Neel, Lt. Colonel Samuel Watson and Major Francis Ross, answered a call for men to go to Georgia to free Augusta, Georgia. On June 20, 1779, Colonel Neel was killed at Stono Ferry and Samuel was made Colonel. During the war, Samuel also commanded a regiment at the battle of Cowpens, and was engaged in the battle of King's Mountain. In addition, he commanded a unit in the battle at Hanging Rock under General Sumpter.
Quoting historian Robert Latham "Colonel Watson was a man of sterling integrity and a true Whig. In consideration of his uprightness, he was made by common consent of his Whig neighbors, a kind of commissary, and his house was a depository for any supplies that the Whig organization might have on hand."
After the war ended, Samuel continued to be an active participant in forming the new County's government. He participated as one of eleven York County delegates to the convention in Charleston in May, 1788 which ratified the constitution of the United States. Colonel Watson was one of ten of the eleven who voted against ratification.
In the October Court of 1797 Colonel Watson was listed as a foreman of the Grand Jury in York County's second court.
For some years before his death Colonel Watson was paralyzed and spent his last years in an arm chair with wheels. Described as a heavy-built man, not tall, Colonel Sam gradually wasted away and died on November 10, 1810. Colonel Samuel and his wife Elizabeth are both buried in the cemetery of Bethel Church.
The Catawba Chapter, DAR, Rock Hill, South Carolina, has erected a marker in Colonel Watson's memory. The inscription is: Colonel Samuel Watson, 1731-1810; Wife Elizabeth McDowell Watson 1738-1817. Near this spot was the home and commissary of Colonel Watson, 1st Lt. Of the Rangers, Captain and Delegate to the S.C. Provincial Congress, 1776. Colonel of the militia of New Acquisition, Elder in Bethel Church, and in consideration of his uprightness he was made commissary by his Whig neighbors and his house depository for supplies."
Colonel Samuel Watson and His Descendants, by Eleanor Guy Bankhead, 1966.
History of the Presbyterian Church of Bethel, Rev. R.A. Webb, Fifth Pastor, Orginally published 1887, The Ladies Aid Society; Revised April 1, 1938.
EXCERPTS FROM AN ARTICLE BY
LOUISE PETTUS
ON SAMUEL WATSON
YORK COUNTY GENEALOGICAL HISTORICAL SOCIETY MAGAZINE
SEPTEMBER 1996 PG.27, 28
On the 6th of April 1765 Watson registered two plots of land totaling 760 acres, "whereon Watson now liveth," in "Mecklenburg on Rockey Allison's Creek…."
The house was located about halfway between the town of York and the Catawba River on Hwy 49.
The Lyman Draper papers at the University of Wisconsin describe Watson as a man 5 ft. 5 in. n height, of compact build, and genial in disposition. However, like most Scotch-Irishmen of his time, he had no love for the English.
In June 1780 nearby Hill's Ironworks were burned by the British. The terrified workers fled to Watson's Plantation which quickly became a center of resistance.
At the battle of Hanging Rock in lower Lancaster County, a musket ball hit Watson's sword, breaking his ribs and knocking him off his horse. His grandson wrote Draper that the family kept the prized sword with the ball half buried in it's metal along with Watson's giant musket which "kicked mightily."
Watson was also at the skirmish at Williamson's Plantation near Brattonsville.
Other battles in which Watson participated were Rocky Mount, Sumter's Defeat and Biggin Church.
Samuel Watson, Jr. born 12 August 1754 in York county, Pennsylvania also fought in the Revolution.
A LIST OF ACCOUNT OF SUNDRY PERSONS FOR
HORSES AND OTHER ARTICLES LOST, AND
FOR SERVICES DONE IN THE REGIMENT OF MILITIA
COMMANDED BY COLONEL SAMUEL WATSON
IN THE LATE CAMPAIGN
1779
YORK COUNTY LIBRARY. RH SCR B. WATSON
WILL OF WILLIAM WATSON
1779- William Given for a sorrel horse—cropped ears—L 850. One saddle—L 56. 17/6. 2 bridles—L 40.12/6
James Mitchell for a mare…. Valued at 1150. The above said horse & mare were taken by the enemy, May 10, 1779.
John Killough for a sorrel horse. L 800. A bay mare L 850. Both lost in the service.
Archy Gill for a grey mare stolen… valued at L 460.
Archibald Clinton for a bay horse branded on the off shoulder & buttock. Lost at head quarters at Sommer's old fields July 2, 1779. Valued at L 650.
John Patton for a mare died in the public service on the road between Charles town and George town….. L 800.
James Templeton for shoeing three horses in the public service. L 19.10
James Latta for his [page ripped] Charles town in March 1774.
Henry Kirswell for damages done to his rifle gun. Impressed by Col. Watson March 28, 1779. 25 dollars.
Figure 3

Samuel Watson, Col.
RESEARCH BY JOHN T. MISSKELLEY
DIGITAL PHOTOS BY DAVID CHAMBERS