Barry Grant - Mr.
Baer Grant BIRTHDATE- 1730 PLACE OF BIRTH- In the Blue Ridge near Bear Hollow, born breech and some say I'll probably leave this world in much the same way. NATIONALITY- Scottish OCCUPATION- Sutler/merchant, adventurer and soldier, I fought in the French & Indian War at a young age and continue daily, when needed. Came to this area by way of the great wagon road. Sells are good, the fightin' fair so I decided to stay SKILLS- Good with hawk and knife, and I make powder horns and leather goods. Ain't never had much use for people telling what I can do, that's why I fight for freedom. I will fight till I die and several days after if I can. PARENTS NAMES- William A. Grant, born in 1685 in Scotland and Nannie Zuber Grant also born in Scotland in 1690. Both are now deceased BROTHERS/SISTERS MARRIED/CHILDREN
Bob McCann - Mr.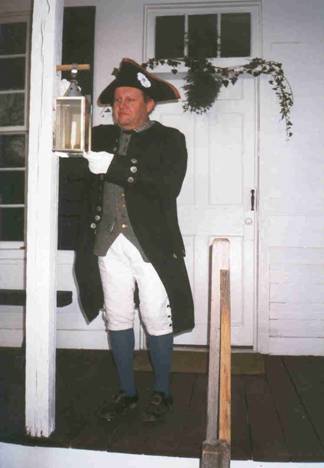 Robert Isaac McCann BIRTHDATE- The last of the year 1723 PLACE OF BIRTH- County Armaugh, Ireland NATIONALITY- American by choice OCCUPATION- Unemployed, formally Millwright and Ironmaster, I had apprenticed in Scotland with Jimmy McWarter and learned the skills of building mills and iron furnaces. Back in Ireland, there was not much call for my skills, and with the rents on the family farm rising to four times their worth in crops the farm could produce, I accepted the call for free passage to America and arrived in Charles town in 1767. I found it a haughty town and was expected to move immediately inland to claim my land, but I made the acquaintance of one Isaac Haynes. We became quite good friends and he was amazed at my mill experience. I located to my lands south of 96 and enjoyed a prosperous living for seven years. Haynes contacted me about building a mill on Allison Creek and staying on as Ironmaster to keep an eye on his partner William Hill. We formerly lived in a dependency at Hill's iron works, but since Captain Christian Huck of the British Legion burned us out in June, my wife is now living with our tenants below 96. SKILLS- Millwright, Ironmaster, blacksmith, founder, roller, patternmaker, with a little farming and hunting, I have been banned from physical contests at court day due to my propensity toward gouging of eyes and splitting of nostrils. PARENTS NAMES- Laura Kauffman McCann & Robert McCann BROTHERS/SISTERS- One brother who immigrated to Chester, Pennsylvania and later moved to Fort Pitt MARRIED/CHILDREN- Wife Carol and three older children, one who was banished to Georgia for his siding with the King
David Hazelberg - Mr.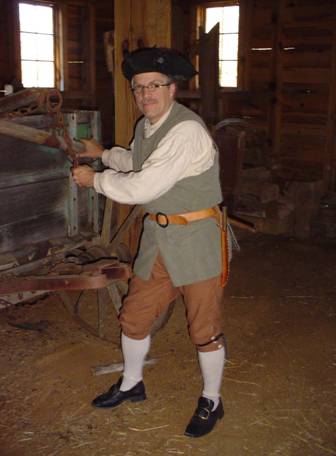 DATE OF BIRTH- December 18, 1724 PLACE OF BIRTH- Western Pennsylvania frontier NATIONALITY- Swedish – Norwegian / German – French OCCUPATION- Tinker, hired farm help, hunter and militiaman SKILLS- Farming, hunter, tinker, trapper PARENTS NAMES- Theodore and Theresa Hazelberg, father deceased, Indian raid BROTHERS/SISTERS- Older sister, Sherry Maas, younger brother Theodore on frontier, brother Daniel married, sisters Michelle, Judith and Cynthia is married. Debra deceased, Indian raid MARRIED/CHILDREN- Wife, Delores and sons; Scott, grown on the frontier and Michael a Physician in Philadelphia
Ed Darby - Mr.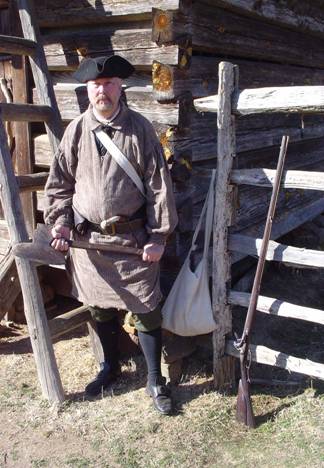 Asa (Ed) Darby BIRTHDATE- October 27, 1730 BIRTHPLACE- Montgomery County, Maryland NATIONALITY- Scots-Irish OCCUPATION- Farmer and Grist Mill operator on 400 acres along the Sandy River (Chester District), served in the Maryland Militia during the war with the French SKILLS- Operating a Grist Mill, raising crops, cattle, sheep, and hogs PARENTS NAMES- George & Anne Darby BROTHERS/SISTERS- William & Rebecca MARRIED/CHILDREN- Elizabeth Adams Darby, son Thomas and two daughters, Elizabeth Caroline and Melinda Marie
Elaine Sprinkle - Mrs.
BIRTHDAY- May 28, 1725 PLACE OF BIRTH- Dublin, Ireland, my parents brought me across the sea when I was 9 years old. We lived in Lancaster County Pennsylvania, while there I met an itinerant preacher named Robert Sprinkle whom I married in 1742. We traveled to South Carolina in 1760 so that he could preach to the backcountry Presbyterian folk who had no preacher. NATIONALITY- Scots-Irish OCCUPATION- Housewife SKILLS- Farm the land, 200 acres when my husband is gone on his preaching rounds, which is most of the time. I midwife for the area woman and work as a seamstress for woman's clothing in the area. PARENTS NAME- James & Mary Oliver BROTHERS/SISTERS- Five brothers and two sisters who both died in childbirth MARRIED/CHILDREN- married with four children, Sarah, Rachel, David and Matthew. Until about 1770, when more and more settlers were arriving in our area, my husband had to travel many miles between homes of fellow Presbyterians. But, with so many new settlers in the area, he has many more contracts. He still has to travel a very long route, but he is not so hard pressed to find a home or at least a barn in which he can sleep for the night
James Boyd - Mr.
BIRTHDATE- 23rd day of July 1749 PLACE OF BIRTH- Philadelphia, Pennsylvania NATIONALITY- Scots-Irish OCCUPATION- Hunter, cordwainer, horner, beadle, soldier SKILLS- Reading, writing, ciphering, handy with a firelock, knife and hawk. Schooled in Philadelphia until parents moved to Buck's County, in 1762. Spent 2 years with the Unami Lenne Lenapi's learning the ways of the woods and animals. Signed on as a hunter for a wagon train going to the Carolinas in 1767. Settled along Saluda River in the Lexington District where I married. I was deeply involved in the Regulator movement. Traveled back to Philadelphia in 1770 where I finished my schooling at Dr. Franklin's College of Philadelphia, during which time I served as a Beadle. I have been in the battles of Long Island, spent the terrible winter at Valley Forge, where I was made a Lieutenant, and where we became an army. I crossed the Delaware with Washington and beat the bloody Hessians at Trenton. We then fought at White Plains, Peekskill, Springfield and Smith's Cove. Our enlistments expired in July 1779 and we were mustered out in Philadelphia. My wife was anxious to return to South Carolina to see about her family, so once again we traveled the Wagon road to South Carolina arriving in October. We found that the bloody Brit's had been busy and the damned Tories had burned their farm and her family is not to be found. So here I am, ready to take up arms to end this bloody war. PARENTS NAMES- Thomas Boyd, born in Belfast, Ireland in 1719 and Jane Boyd, born in Edinburgh, Scotland in 1726 BROTHERS/SISTERS- MARRIED/CHILDREN- Married Jessica Redd at Poole's Mill in South Carolina, and have two children, Scott born in 1772 and Elizabeth, born in 1777
Joe Hinson - Mr.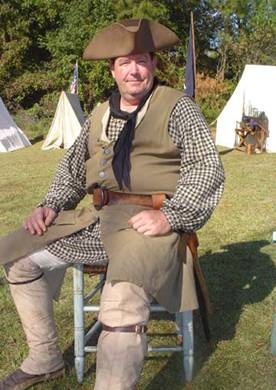 BIRTHDAY- February 16, 1728 PLACE OF BIRTH- Born aboard ship NATIONALITY- Scots-Irish OCCUPATION- Horse breeder on 500 plus acres near the Catawba towns, my father came to this area in 1763 after Pontiac's war from Deerfield, Mass. My mother's family was already in the New Acquisition area making peace with the Indians. SKILLS- Raising horses, racing, I used to be fast in my youth and could out run men half my age. I am good at gambling, hunting, cockfighting, and all manner of saddlery and leatherwork, plus a wee bit of gunsmithing. PARENTS NAMES- Mary White and Joseph Max Hinson BROTHERS/SISTERS- none all died. MARRIED/CHILDREN- I have been married twice, the first died after leaving me two sons, but only one helps on the farm, as the eldest is in the army. The second wife ran off with a tinker after having another son whom she had abandoned and that boy who is 14 and is much like his mother.
John Robinson - Mr.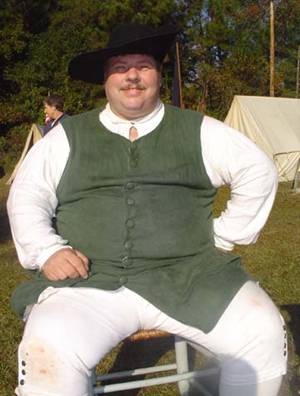 Karen Smith - Ms.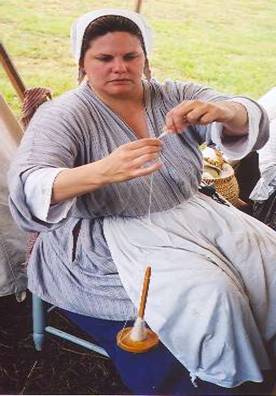 Karen (Cara) Smith (Karen is not an 18th c. name) and "Cara" is a period appropriate derivative. It is Gaelic for friend) BIRTHDATE- late September early 1740's PLACE OF BIRTH- Nova Scotia NATIONALITY- Scots-Irish OCCUPATION- Weaver, spinster, seamstress. SKILLS- Spinning (Wool and flax), knitting, weaving, cooking, sewing. I am very independent and sometimes to my detriment PARENTS NAMES- John & Mary Townsend, both deceased BROTHERS/SISTERS- None MARRIED/CHILDREN- Married once to Stephen Smith of Deerfield, Massachusetts Bay Colony, and have two grown children. My son Joshua is a tavern keeper in Charles Towne, and my daughter Rachel is betrothed and is apprenticed to become a midwife and herb-woman and lives out in Charlotte Town. I do not see either of them very much as they do not live near. Their father ran off and left us years ago when the children were small. I raised them by myself as I had no other family to care for us. I came to the New Acquisition District ten years ago to marry, but he was killed by outlaws soon after I arrived. I make my way as I always have: by making cloth and clothing.
Ken Ketchum - Mr.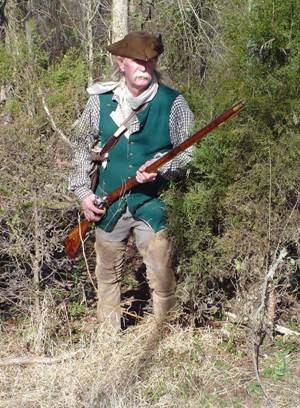 BIRTHDAY- February 12, 1722 PLACE OF BIRTH- Western Virginia NATIONALITY- Scots Irish OCCUPATION- Market hunter/Surveyor SKILLS- Land speculation, surveying and hunting PARENTS NAMES- Clarence & Dorothy Ketchum BROTHERS/SISTERS- Brothers Thomas, David, Joel and sisters Mona and Carol MARRIED/CHILDREN- Widower with one daughter, Donna and grandchildren
Kip Karter - Mr.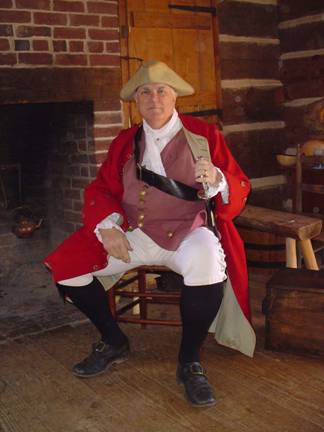 Leonard H. (Kip) Carter II BIRTHDATE- March 28, or April 9, 1721 PLACE OF BIRTH- Near Williamsburg, Virginia NATIONALITY- Welch OCCUPATION- Factor for my Uncle Fielding Lewis, also looking for additional lands and cattle to be shipped to Fredericksburg, Virginia. SKILLS- Cattle buying, surveying, and some knowledge of the law PARENTS- L. Hewell Carter & Ansley Fielding Lewis BROTHERS/SISTERS- One sister, Martha MARRIED/CHILDREN- First wife died; Second wife ran off with horse trainer, and the third wife is a fine catch and very sweet
Mark Hall - Mr.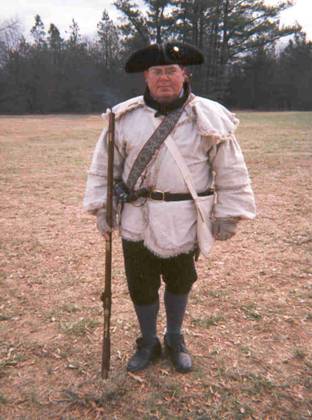 B.K. "Dawg" Hall BIRTHDATE- Spring of 1730 PLACE OF BIRTH- NATIONALITY- Scots-Irish/Dutch OCCUPATION- Merchant/Sutler I came to this area after the fall of Charles town and settled near the Catawba towns where I am in business with Baer Grant SKILLS- Jack of many trades PARENTS NAMES- Both deceased BROTHERS/SISTERS MARRIED/CHILDREN- I married a Scots-Irish Cherokee woman, and have two daughters, who can outshoot most men
Maurice Harlan - Mr.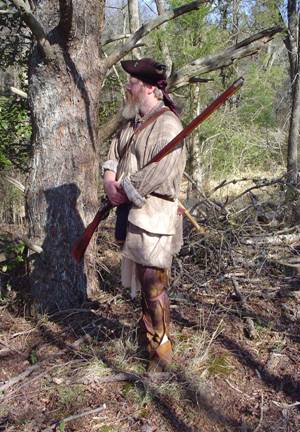 BIRTHDAY- January 22, 1731 PLACE OF BIRTH- Portsmouth, Virginia NATIONALITY- Irish OCCUPATION- Market hunter/Indian trader SKILLS- Leatherwork, hunting, trading with Indians and scouting new hunting grounds PARENTS NAMES- William & Rita Toomey Harlan BROTHERS/SISTERS- William, Charles, John Patrick, Mark Daniel Kevin and Catherine MARRIED/CHILDREN- Wife left, could not handle lifestyle, left two children Adam and Kristina
Rachel Sprinkle - Ms.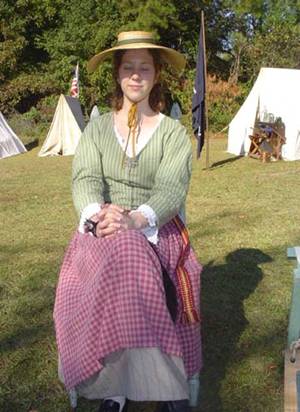 BIRTHDATE- July 25, 1758 PLACE OF BIRTH- Lancaster County, Pennsylvania NATIONALITY- Scots-Irish OCCUPATION- When my parents moved to South Carolina, I stayed in Pennsylvania with my mother's sister so that I could receive more training as a musician. I play the harpsichord, penny whistle and hammered dulcimer. Because my parents are very strict Scots-Irish Presbyterians and my aunt is more freethinking, she has also allowed me to study to be a dance mistress so that I can call at the dances that are so popular. My parents do not know this yet. SKILLS- Musician, dance mistress PARENTS NAMES- Robert & Elaine Sprinkle BROTHERS/SISTERS- One sister, Sarah and two brothers, David and Matthew MARRIED/CHILDREN- Single
Robert Brewton Ryals - Mr.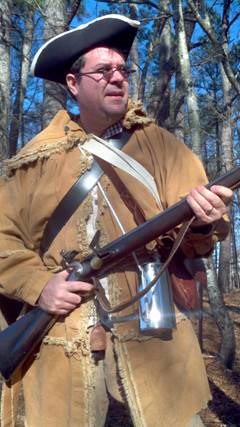 (alias) (real name - Frank Fontaine III) - A minor Low Country planter of 3rd generation Huguenot descent. His grandfather, Francis Fontaine, was a highly educated man who was a descendant of a French Huguenot (Jacque de la Fontaine) refugee. Francis taught Hebrew and Greek at the College of William and Mary in Williamsburg, Virginia. Francis' son, Frank Fontaine Jr., moved from Williamsburg to New Bern, NC and went into business with his brother John as a successful carpenter and house joiner. Frank Jr. served as an ensign in the Craven County militia during the French and Indian War. After the war, Frank Jr. and John sold the family business in the early 1770s and relocated their families from New Bern and established new lives as planters in the Edistoe District in Charleston Precinct (around present day Waltersboro, SC). Frank Fontaine III joined the 2nd South Carolina Regiment in 1777. Frank has always had extremely poor eyesight. His father purchased a pair of spectacles for him at an early age but he is still an extremely poor shot, even with a rifle. It was presumed that Frank was killed by Tories during the Fall of Charleston in 1780. Actually, he managed to escape the Low Country and assume a new identity as the bastard son of Robert Brewton of Charleston who was outcast from the family. Robert (aka - Frank) fled from the Edistoe District to the South Carolina upcountry and serves in full support of the Whig cause providing intelligence as a spy who gathers military intelligence as a partially blind, harmless, penniless, and neutral party itinerant. He also provides support as needed. He uses the same British Brown Bess musket that his father used in the French and Indian Wary. Before leaving home, he relayed instructions to his wife to grant provisions to the Whig cause as needed and to abandon the plantation upon a British or Tory assault.
Ronda Robinson - Mrs.
(Ronda is not a 1742 name) Ann Robinson BIRTHDATE- September 15, 1742 PLACE OF BIRTH- On farm in Guilford County, North Carolina NATIONALITY- Welsh OCCUPATION- Housewife SKILLS- Apprenticed to a Mantuamaker (after the death of my parents) I made mantuas (dresses), riding habits, gowns and all other plain sewing, I can read, write poorly and do simple ciphering PARENTS NAMES- Robert & Rebecca Jones, both died of influenza in 1754 BROTHERS/SISTERS- Robin Powser MARRIED/CHILDREN- married John Robinson on July 28, 1762 and have 2 children, Sumner born February 22, 1769 and Francis born on October 31, 1772
Sarah Elisabetha Hartung (Hardinger) - Mrs.
was born in Biederbach, Hessen, Germany in 1739. Her parents immigrated to New Holland, Pennsylvania later that same year bringing her, her twin brother, Phillip, and her 4 year-old brother Christian. They were farmers and had resided in Biederback for generations, but when the town was designated Catholic at the end of the wars, they, as Lutherans, were finding it difficult to be accepted. Upon coming to America, they joined the new Holland Lutheran Church where the family records can be found.
Sarah's grandmother Hartung was famous for her sewing and needlework. Sarah inherited this talent. She was helping her family by doing sewing for some of the wealthier planters in the county when she met a Norwegian immigrant named Ranuld Mortenson and married in 1759. They had two children, Davin (an old Norwegian name) and Sarah Elizabeth, called Sarabeth. Ranuld joined the Pennsylvania militia in 1778. Before he left, he arranged for Sarah and the children to move in with Moravian friends in Salem, North Carolina. She has not heard from him since, but a rumor came along with some of the men who had fought with him in New Jersey that he had been killed in a small skirmish in the Watchung Mountains.
Sarabeth recently married a young man who had come to Salem from Pennsylvania and Davin is working as an engineer with Washington's troops, so Sarah left the crowded and confining residence of her friend and now accompanies the New Acquisition Militia primarily as a seamstress. Having been taught to read and write, she also serves as a scribe for members of the unit.
Parents names – Johann Conrad Hartung and Anna Catherina Drels, both of Biederbach
Married – Ranuld Mortenson (probably deceased)
Children – Davin Mortenons and Sarabeth Mortenson Nodine
Terence Patrick Kendrick - Mr.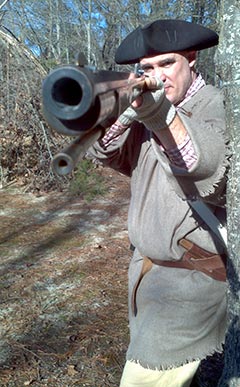 BIRTHDAY - Winter, 1726 PLACE OF BIRTH - Overwharton Parrish, Stafford Co, Va NATIONALITY - Scots-Irish OCCUPATION - I attended the Log college in Pennsylvania for one year where I studied under new light revivalist William Tennett just before his death. I returned to Virginia and took up planting at my parents property, but with a zeal to propogate and write my ideas, sought an apprenticeship as a printer. After much correspondence with a friend's daughter, I travelled to Tryon North Carolina along the wagon road to meet her in person, Denise Regier, a school teacher. I later fought in the seven year's war, where I gained military experience and became skilled in fighting indians. Later, as part of the Militia, I became embroiled in supporting the regulator movement, fighting the cherokee, and eventually supporting the cause of liberty! SKILLS - Planter, Printer PARENTS NAME - Thomas & Marion Kendrick BROTHERS/SISTERS -The youngest of 5 boys. Two older brothers were lost during childbirth. MARRIED/CHILDREN - Denise, and three boys: James, Joseph, Robert
Walker Owens - Mr.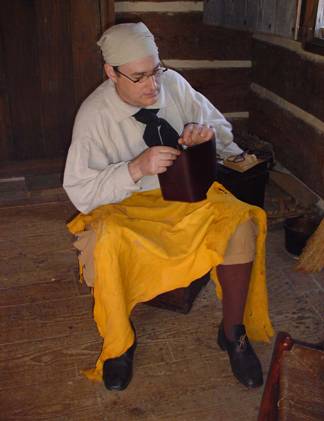 William (given – but dropped after the rising of the clans in 1745) Walker Owens BIRTHDATE- Fall, after the first frost, 1732 PLACE OF BIRTH- Northern Ireland NATIONALITY- Scots-Irish OCCUPATION- Farmer/Hunter, arrived in Philadelphia under contract as a bond servant for a term of 7 years. Although raised as a farmer I was bound as a "Tanners Apprentice" where I faithfully served and was released from my term of service in exchange for serving in the stead of my bond holder during the Indian campaigns against the French. Those were hard days and an education in the ways of the forests. Any rumors that I jumped service from that miserable blackheart of a tanner are false. SKILLS- Tanner, Leatherworker and horn worker, and can work in woven goods as well. Can make a living from the fields and woods and, if it walks I can kill it, if I can kill it, I can skin it, if I can skin it, I can tan it, and if I can tan it, I can wear it. PARENTS NAMES- Norris Holland Owens & Lorraine May Owens BROTHERS/SISTERS- Richard (deceased), Thomas, Lisa Karen (deceased) MARRIED/CHILDREN- Only married once in this country. Jeanne Halliday, with a son David McLelland, and a daughter Charlotte Ann, each a joy to my life and the sun shine of my days.